Dental Implants – San Antonio, TX
The Closest Alternative to
Your Natural Teeth
Dr. Mooney is dedicated to continuing his education and sharpening his skills, which has led him to complete advanced training and become a Fellow of the International Congress of Oral Implantologists. With so much experience and knowledge under his belt, he's able to offer dental implants in San Antonio, which are one of the most highly recommended tooth replacement solutions available. Unlike traditional restorations, ones retained by dental implants don't need to rely on natural suction and being anchored to your healthy teeth to stay in place. To learn more about this strong and stable treatment option, read below or call our office today to schedule a complimentary dental implant consultation.
Why Choose Alamo Family & Cosmetic Dentistry for Dental Implants?
Complimentary Dental Implant Consultation
Mooney is a Fellow of the ICOI
Special: $1,000 for One Dental Implant
What are Dental Implants?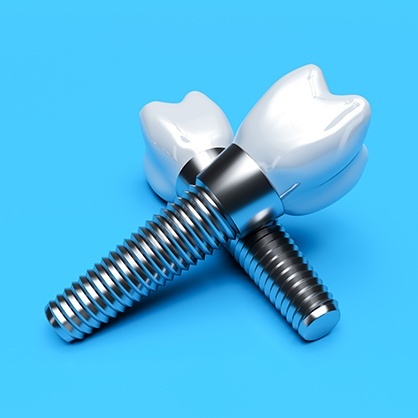 Dental implants are small titanium posts that are surgically placed below your gumline to restore the missing root structure of your tooth. Due to their biocompatible nature, they're able to chemically fuse with your jawbone, providing the area with necessary stimulation and blood flow to keep it from deteriorating. After you've healed, an abutment, which is a small, metal connector piece, is then attached to the top of your implant. This will secure a customized crown, bridge, or denture in place to complete your smile.
Benefits of Dental Implants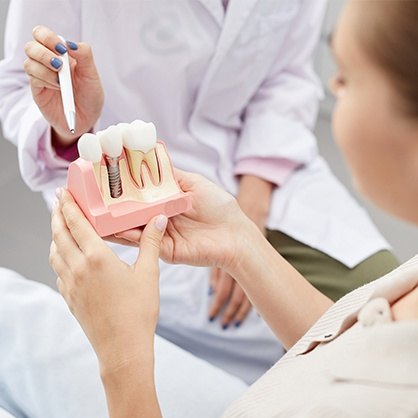 Dental implants offer a variety of benefits that set them apart from traditional restorations. Some of the advantages that you'll be able to enjoy when you receive this treatment include:
Lifespan of 30+ years with the proper maintenance
Easy to clean and maintain
Preserve jawbone density
Prevent hollow-looking or drooping cheeks
Natural looking and feeling replacement teeth
Enhanced eating and speaking abilities
Eliminate slipping and shifting restorations
No alteration of your healthy teeth
Are Dental Implants Right for You?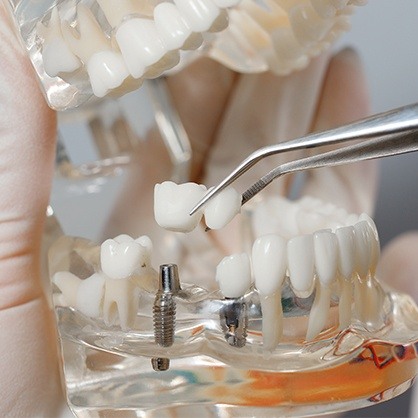 To learn whether you're a good candidate for dental implants, we invite you to schedule a complimentary consultation with Dr. Mooney. During your visit, our team will examine your mouth, discuss your medical history, and assess the following traits:
Do you have an autoimmune disease?
Are you dedicated to maintaining good oral hygiene?
Do you have any oral health problems that need to be addressed?
How many implants do you require?
What type of restoration do you need?
Based on the answers to all of these questions, we can then create a customized treatment plan and walk you through it.
Missing One Tooth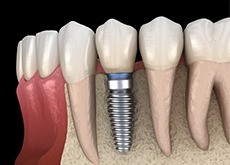 For a single missing tooth, we can place one dental implant in the gap in your smile, followed by an abutment to top it off. Once your customized dental crown is made, we will secure it onto the implant to complete your smile.
Missing Multiple Teeth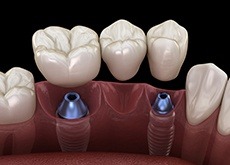 Instead of needing to alter your healthy teeth by getting a traditional bridge, we can secure a prosthetic to two dental implants located at either end of the gap in your smile. To get an implant-retained bridge, you need to be missing three or more teeth in a row.
Missing All of Your Teeth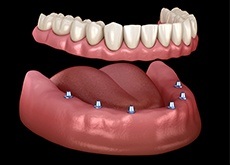 To secure a denture in place, we will need to place anywhere from four to eight dental implant posts along your arch. These will attach to the bottom of your denture and hold your replacement teeth, that way you don't have to worry about them slipping or shifting when you eat or speak.
All-on-4 Dental Implants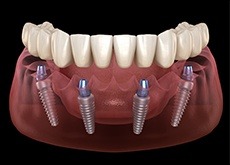 If you're looking into dental implants but don't want to have to undergo the healing process without any teeth, we also offer All-on-4 dental implants. This is when we attach a denture to four dental implants strategically placed along your arch the same day of your surgery.
Mini Dental Implants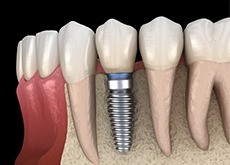 Some of our patients aren't good candidates for regular dental implants due to a lack of jawbone density. If you're in this category and don't want to have to get a bone graft, we also offer mini dental implants. These are shorter and allow you to enjoy all of the benefits of dental implants without needing to undergo additional, invasive surgeries.
Start-to-Finish Convenience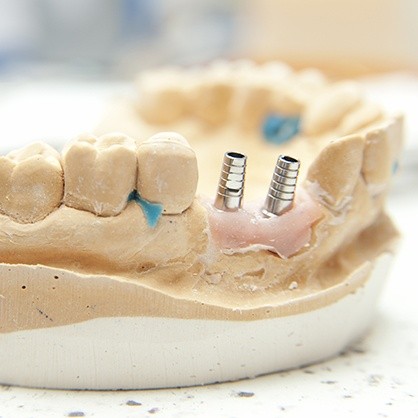 Dr. Mooney is proud to be a Fellow of the International Congress of Oral Implantologists, which means he has completed advanced specialty training to be able to conduct dental implant treatments. This means that our team can complete the entire procedure, including the implant placement, under our roof, so you won't need to worry about having to jump from specialist-to-specialist throughout the process. This also means that you'll be able to stick with the same, trusted team of professionals that you start your treatment with!
The Cost of Dental Implants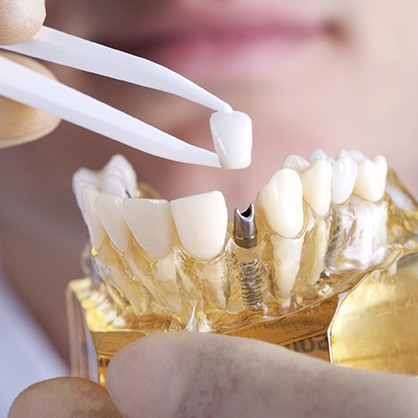 In order to determine the cost of your dental implant treatment, Dr. Mooney must first examine your mouth to determine crucial cost-impacting factors, like how many treatments you need and what type of restoration you require. After that, we will walk you through your treatment plan and discuss financing and cost with you. Currently, we are running a special where you can get one dental implant placed for $1,000. We're also in-network with a number of dental insurance plans and are happy to discuss financing options with you.